Graphic Design for Schools
Canterbury College
It has been a privilege to partner with Canterbury College over the last decade.
Graphic design projects range from event promotional material, internal document design, magazine and publication design, yearbook design, to complete rebrands and website design.
Kind words from Canterbury
"They make my job so much easier as I know our design and print work is safe in their very capable hands."
Canterbury College has been proud to partner with Ignition Creative since 2012 for the design of our varied suite of publications, advertisements, and promotional collateral, and in the coordination and production of our annual photoshoots.
Recently we also embarked on a complex rebrand of the College, featuring many elements, and Ignition has taken that project so beautifully and easily through from concept to execution."
Nancy Fadden
Director of Community Engagement – Canterbury College
FEATURED PROJECT
Canterbury Prospectus Design
The Canterbury College Prospectus was an exciting school-focused graphic design project that required full conceptual development from the very beginning. The internal Canterbury team provided copy for each section, and then together we developed a shot list. Each spread of the prospectus required a hero image, representing each facet of the Canterbury College experience.
From conceptualising to storyboarding, photographing, and finally to editing and designing, the prospectus was truly a "start to finish" job. Each image was carefully edited, combining the original photoshoot photo with multiple stock images to create each final composition.
We also created a custom presentation folder dieline with curved lines to echo those in the publication. And both the folder and Prospectus were printed with a silver foil of the crest. We are really proud of this particular project — it was such a privilege to be involved with a stunning school graphic design.
Explore publication design
FEATURED PROJECT
Canterbury College Logo Redesign and Rebrand
Canterbury called on Ignition in 2019 to redesign the College's crest. The crest is an iconic part of the College culture and history, so core elements needed to be kept and modernised. The goal for the rebrand was to:
Improve legibility
Balance text
Simplify
Make it symmetrical
Transition from a traditional style to a modern style
Introduce complementary colour palette
Introduce grey / silver tones
Our Approach
Our school graphic design team redesigned the crest logo and Canterbury wordmark first. They then went on to create a new colour palette, supporting colour palette, complimentary typography, and supporting design and photography style. All this formed the new Canterbury Style Guide, which has been in use ever since.
FEATURED PROJECT
Canterbury College Website Redesign
Ignition worked closely with the Director of Community Engagement and Communications at Canterbury in 2019 to completely redesign the Canterbury website.
Our initial work included a complete overhaul of the site structure. We created site maps and architecture in collaboration with Canterbury to create the best user experience.
Once the structure was confirmed, our expert school graphic design team developed a WordPress website that would both look good, and be easy to use. We edited imagery and implemented custom interactivity including interactive maps, calendar functionality and hover states were implemented across the site.
As usual, we conducted thorough user testing on the site before going live. Today our expert school graphic design team maintain the website so Canterbury can easily update content and blog posts as required.
View Canterbury Website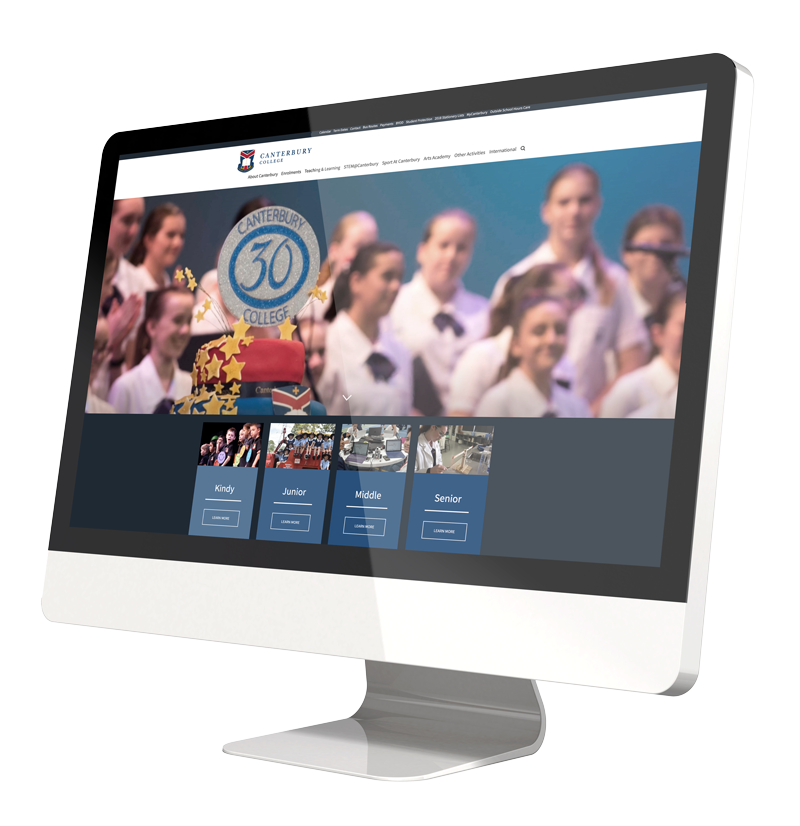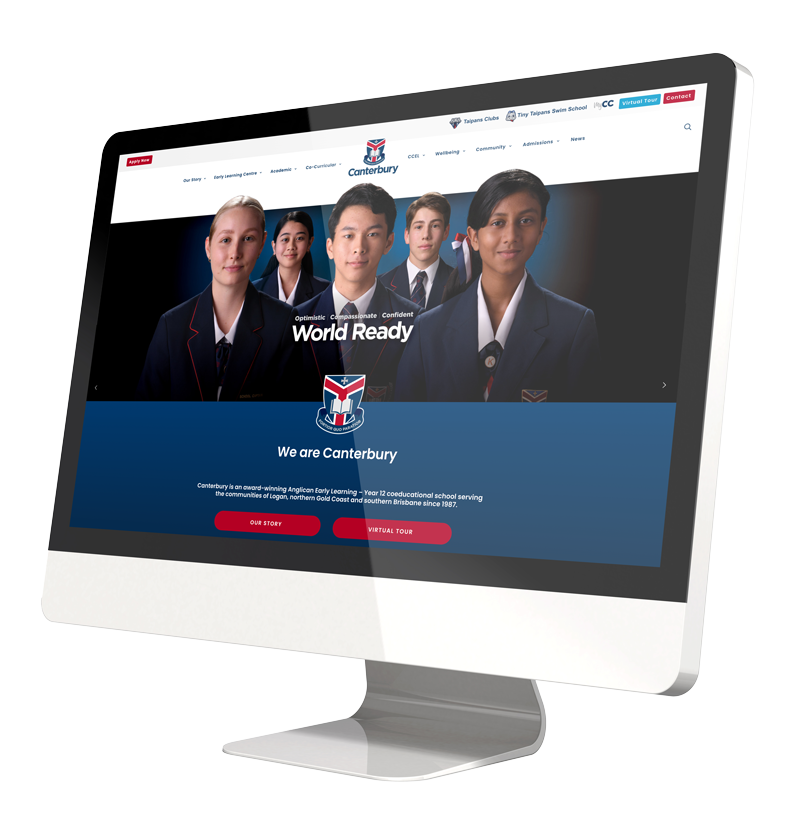 FEATURED PROJECT
Canterbury College Yearbook Design
The Canterbury College yearbook is an integral part of school communications each year, and is provided to each student. Ignition is there each step of the way for Canterbury, from design and editing to print production and delivery.
Our easy online collaborative proofing system makes tracking edits across such a large document easy, and our image editing creates a consistent image experience (even if images are coming from different sources like school photographers and teacher's mobile phones!).
Explore yearbook publication design
FEATURED PROJECT
Canterbury College Promotional Material
Ignition continues to support Canterbury with the creation of promotional material. This includes promotional material for events (posters, flyers, pull up banners, digital advertising, social media artwork), signage for around the College, internal document creation (application packages), and more.
ARE YOU LOOKING FOR SCHOOL GRAPHIC DESIGN?